Last time we wrote, we talked about the major trends that we have observed among our bar, hotel and restaurant clients and the thoughts they have inspired in us. Many of you responded (mondededemain@francois-doucet.com) to these thoughts, to the message of hope we would like to convey and to the prospects that we are opening up. We would now like to talk to you more specifically about the measures that we have taken to consolidate or reorient our own actions. We are basing this on the main trends highlighted in our previous article, which are as follows:
Home-made production: at François Doucet Confiseur, we produce 98% of the products we sell. We do not purchase finished products externally; neither do we simply trade products. What we do is to put our unique know-how into the creation of our recipes (more than 100 different ones), into the preparation of our products and into the quality of our coatings (such as those on our chocolate-coated fruit jellies). This is how we have earned a place among the products sold by our bar, hotel and restaurant clients which put the accent on their know-how and their "home-made" selection. As with any production approach, the choice of ingredients is vital. Our approach in this area is three-pronged:
Impeccable quality: we select our ingredients ourselves and have developed the ability to reliably judge using our senses of sight, touch and smell.
Local sourcing: what could be said of a Provence-based confectioner that sourced supplies on international markets for reasons of cost price, to the detriment of taste and product origin? 75% of the fruit used to make our fruit jellies comes from Provence (e.g. Orangé de Provence apricots from the Baronnies, quinces from the Drôme, figs from the Var, and Golden Delicious apples and Williams pears from the Hautes-Alpes). The honey used in our confectioneries is a Provençal lavender honey certified by 'Label Rouge' (Red Label) and 100% of the almonds and hazelnuts are French.
Partnerships with producers and vertical integration: long-standing partnerships have been built over the years to secure supplies from the finest lands, while enabling producers and cooperatives to sustainably develop their businesses. A few years ago, we also contributed to the revival of almond production in Provence by investing in ten hectares of almond trees (around 2200 trees), which will soon cover part of our supplies.
Everyday little pleasures: If we had to single out a main trend, it would be this one. At François Doucet Confiseur, this has led us to expand our range of packaging, to adapt it to specific forms of consumption, and to help our clients stand out and make each moment one to be savoured. Whether it's a sweet treat to accompany an exceptional coffee, a small welcome gift placed on the bed, a more substantial gift given to a loyal customer that is sure to please, or an addition to the range of gourmet snacks on sale in the window display to accompany a moment of relaxation spent in your establishment, we offer various types of packaging ranging from 3 to 40 g. There is something for all tastes among our 300 products; and if you don't find what you're looking for, we're sure we can make it for you.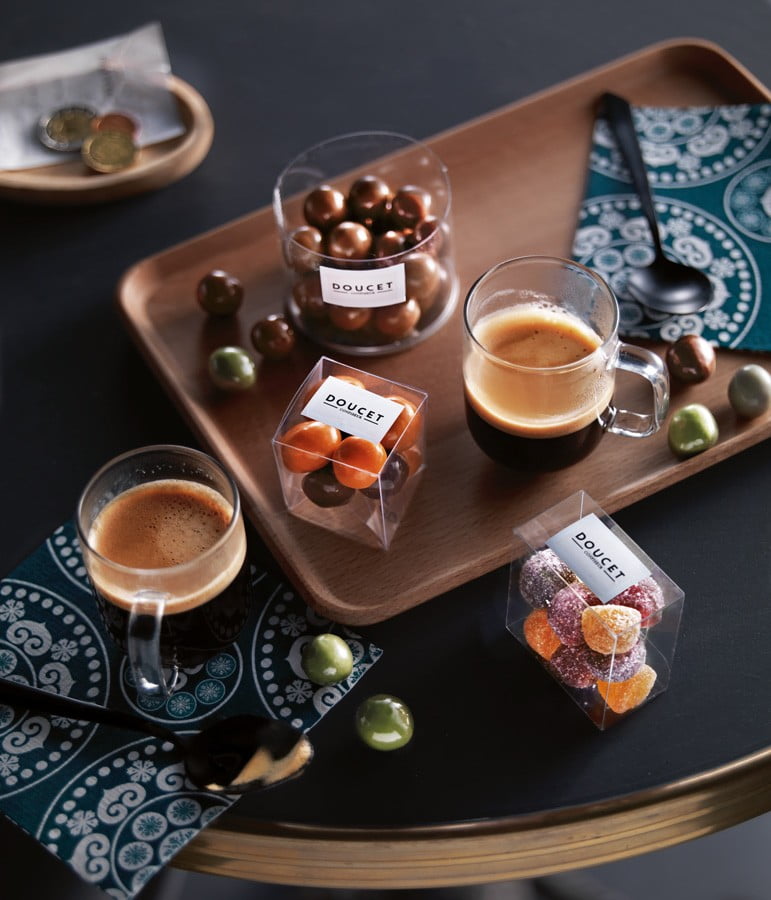 Innovation: there are two fundamental trends at François Doucet. Firstly, there is a long tradition of product innovations, which means we are always able to offer something new, to surprise clients, to inspire questions and provide answers… In a nutshell, to enhance a moment. Our "Éclats de fruits" (fruit pieces) are coated with dried fruit instead of the traditional sugar coating, to allow more of the fruit flavour explode in the mouth, and our 'primeur' fruit jellies are made with vegetables! For example, there is our 'basil and tomato' flavour as an original summer appetizer, or 'onions and figs' to accompany foie gras. Secondly, there is another innovation underway which is the creation of a Doucet brand reserved for specific distribution channels, including hospitality and catering, to make our products even more distinct and avoid unwanted connections between channels.
Strong local roots: In 1969, François and Maggy Doucet took over one of the last remaining almond processing workshops in Oraison, Alpes-de-Haute-Provence, France. They built on ancestral recipes while pursuing creativity and excellence in the production of their French confectioneries. Today, we remain a family-owned company, which is run by Jean-Marc Doucet, one of the sons of its founders. Still based in Oraison, we produce among the finest confectioneries in Provence and, in 2017, we were awarded the EPV (Entreprise du Patrimoine Vivant or Living Heritage Company) label, which recognises French companies with outstanding artisanal expertise. More than 60 people, working in two production workshops, perpetuate the passion for flavours that was passed down by the founders.
Ability to remain close to the customer base: at François Doucet, we have adopted a direct B2B sales approach, which enables business clients to remain in direct contact with their supplier; we do not operate through intermediaries and have established a beneficial free delivery policy for orders over a certain amount. Our sales team is here to help you. You can contact them by email (christine.defrance@francois-doucet.com) or telephone (direct line: +33 4 92 78 76 75). Three or four times a year, in a respectful manner and without unnecessarily cluttering your inbox, you will receive all the essential information. Of course, we will be delighted to visit you to discuss any specific projects you may have (including special packaging, limited-edition series, co-branding, or even production under your brand).
Would you like to find out more? How about a personalised tasting session?